LS1 Engine Specs


LS1 5.7L (346-cu-in) engines were produced between the 1997 and 2004 model years. Performance car engines have typically carried "LS" designations, but truck engines built on this platform have been dubbed Vortec.

GM Part # 25534322 : LS1 Engine Kit (Discontinued)

Gross Power : 320 HP @ 5800 RPM

Gross Torque :330 Lb-Ft @ 4400 RPM

Aluminum 6-bolt main engine block

Nodular iron crankshaft with undercut and rolled fillets

5.098" powdered metal connecting rods

Flat top, light-weight pistons

3/8" single roller timing chain set

Hydraulic roller camshaft (0.500 lift / 200/203º 0.050 duration)

Symmetrical port heads w/2.00/1.55 valves

1.7 ratio investment cast roller rocker arms

Composite inlet mainifold with tuned runners

Single bore throttle body

Return-less fuel rail with 25lb/hr injectors 58 psi

Tubular log-style exhaust manifolds

Cast aluminum oil pan

14-inch flexplate
LS1, LS2, LS3, and LS6 Serpentine Pulley Accessory Drive Kit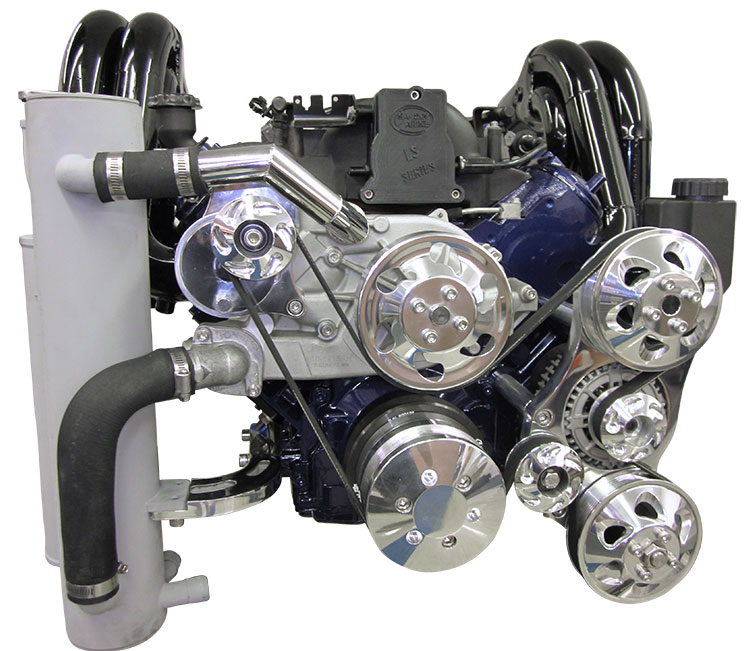 Billet-Trac LS1, LS2, LS3, and LS6 Serpentine Pulley Accessory Drive Kit



Exhaust systems
O2 sensor
O2 sensor location may be an issue. You may want to build a set of exhaust manifold spacers to mount the sensors next to the exhaust ports. Running open-loop without the sensors is an option but performance and gas mileage will suffer.



Ckick here to see how the spacer was fabricated.
Bellhousing
Flywheel
Flexplate and flywheel power take Off adapters
Starter, alternator, bellhousing, raw water pump
Fuel system
Electric in-line pumps

Holley Fuel Pump # 512-105. Call Holley - service part for Stealth EFI system.


Holley # 12-927 - 258 PPH In–Line Universal Electric Fuel Pump (Flows 255 PPH at 15 PSI) :
http://www.holley.com/12-927.asp


Holley # 12-920 - 480 PPH In–line Universal Electric Fuel Pump (Flows 480 PPH at 15 PSI) :
http://www.holley.com/12-920.asp



USCG approved EFI Systems

Holley Avenger EFI 4bbl Multi Point Fuel Injection Systems PN# 510-550-811 ($3376.95)
http://www.jegs.com/i/Holley/510/550-811/10002/-1


Holley Avenger EFI Stealth Ram™ MPFI System # 550-821 ($3204.24)
ECU is certified to ISO 8846, SAE J1171 & United States Coast Guard Requirements for Ignition Protection and Fire Resistance.


USCG approved Flame arrestor
Cooling system
Electrical system
USCG approved starter, alternator. Check the PCM catalogs for these parts. ECU will have to be protected from the elements by enclosing the components in a waterproof housing.


Related Links